---
Have a look at these informative new Tower Garden related videos (click here), including one that features the first team of Juice Plus+ beta test Tower Gardeners in 2011, another that introduces inventor Tim Blank and what motivated him to make this innovative aeroponic growing machine, and some how-to-use training videos.
A number of public Tower Garden demonstration locations have already been set up around the country, and the left photo shows a recently installed working indoor Tower Garden display at O'Hare International Airport in Chicago. Over two dozen connected Tower Gardens are set up inside the terminal with indoor lighting. The harvested food is so delicious that it's served in nearby airport restaurants.
Many larger commercial Tower Garden farms are in now in operation and many new installation plans are in development throughout the US.
For upcoming public Tower Garden demonstration dates in San Diego, California, including our monthly introduction to Tower Garden and JuicePlus+, and to purchase a wide variety of over 1,000 organic/non-GMO edible Tower Garden seedlings (left below) in San Diego by appointment, or by mail order online, or for any TG related questions contact San Diego distributor and trainer Deris Jeannette at: deris@towergardener.com or call him at 619/990-7977.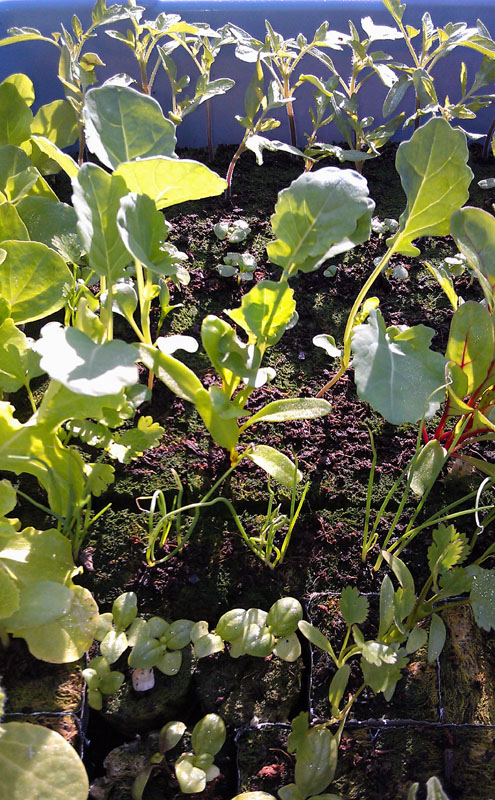 For Juice Plus+ products and distributor information call Sky Jeannette at 858/677-0707, or email her at: sky4health@sbcglobal.net. To learn more about the next best thing to fruits and veggies at her Juice Plus+ home page click here: Sky4health.com.

Check back often because we will be continually updating this and other related web pages with new information, photos, and order links. For more details, background about the product and inventor Tim Blank, and numerous how-to videos and media stories about the patented Tower Garden by Juice Plus+, please click here.

Learn more about the many other unique solar thermal products that can be used to extend your earth garden
and Tower Garden growing season--available only from ClearDome Solar Thermal:

Tower Garden solar and season extender accessory products
SolaReflex and Snow White CoolTarps=cool roofs/walls·

Heating drapes/Thermal barrier fabric · BISFA (solar forced air) heating panels
SolaReflex AA Octagon Parabolic solar cooker · SolarReflex 97% diffused reflector foil · SolaReflex Mirror Film and SolaReflex AA 95% mirror reflector and daylighting panels · Stovetop and Solar Still Water Purifier/Pasteurizer · New 3rd Gen. Spa/pool Water Heating Film · Lightweight Wood Pellet Biofuel cooker